Shree Ram Ramcol F-21 Guar Gum
Guar gum
2020-08-10
Made from guar beans / no artificial additives / no chemical residues / no pesticides / completely non-toxic
Shreeram Ramcol F-21 Guar gum
---
Made from guar beans, no artificial additives, no chemical residues, no pesticides, completely non-toxic
Shree Ram Gum Chemicals Pvt. Ltd., located in the center of Guar Planting Area in Rajasthan, rooted guar in the arid soil of thar desert in India, and its products are supplied all over the world. Xuelong Company has developed from a small company to a large enterprise, starting with only one guar chip factory (used to extract endosperm from seeds), and now it has a world-class factory with the most advanced technology and equipment to manufacture guar gum, which has a wide range of uses, from food to oilfield drilling, printing, paper making, printing and spinning, etc. And exported to multinational customers all over the world.

Shree Ram Gum Chemicals Pvt. Ltd. has been in the business of Guar now for more than 45 years. They are one of the few companies who are vertically integrated from FARM to FINISHED PRODUCTS. Keeping with the demands of the International market , the company has evolved its Food Safety and Management Systems which is today certified as compliant with FSSC22000v4.1 standards.
HISTORY
In 1971, the factory directly purchased raw materials to produce the first brand of guar gum in Rajasthan, India, with the largest production scale in the world (accounting for 8%). It has two brands, RAMCOL and RAMCIL.
CUSTOMER
Shree Ram Gum Chemicals Pvt. Ltd. has a wide range of customer resources and has established long-term supply relations with world-famous companies such as Nestle, Mobil Oil, Cargill, Henkel, Kerry and Palsgaard.
RECOGNIZE
Shree Ram Gum Chemicals Pvt. Ltd. is the first enterprise whose viscosity of raw rubber reaches 11000CPS, and can produce guar gum that meets many levels of industry, food, cosmetics and medicine.
QUALITY
It is produced by food-grade organic guar bean, without artificial additives, chemical residues and pesticides. It is completely non-toxic and has strong water adsorption ability. It is easy to produce colloid and high viscosity after absorbing water
Shree Ram Gum Chemicals Pvt. Ltd. has passed the following certificates:FSSC22000 Certificate,KOSHER Certificate,HALAI Certificate, completely meet the EU inspection standards for food additives;
Huasheng Distributor Certificate
FSSC22000 Certificate
KOSHER Certificate
HALAI Certificate
2008-2009:Certificate of Merit for Export promotion of Guar Gum awarded by APEDA, New Delhi, Ministry of Commerce, Government of India
2007-2008:Certificate of Merit for Export promotion of Guar Gum awarded by APEDA, New Delhi, Ministry of Commerce, Government of India
1999-2000:Gold Trophy "Niryat Shree" for Export Performance awarded by FIEO, awarded by Ministry of Commerce & Industry, Govt. of India
1997-1998 : National Export Award, Certificate of Merit for Export Performance awarded by the Prime Minister of India
1997-1998 : Certificate of Merit for Export promotion of Guar Gum awarded by APEDA, New Delhi, Ministry of Commerce, Government of India
1985-1986: Certificate of Merit for outstanding contribution of Agro & Mineral based products, awarded by Govt. of Rajasthan
History of cooperation
In 2012, Huasheng Company established a cooperative relationship with Shree Ram Gum Chemicals Pvt. Ltd. and became the general agent of Shree Ram guar gum in China. Through large-scale terminal direct sales and perfect distribution network, it has developed into an important enterprise in domestic guar gum industry.
Customer scope
Committed to providing high-quality raw materials for food, compound food additives, printing and dyeing, paper making, pet products, incense making, oil drilling and other industries.
Planting Conditions and Harvest of Guar Bean
Main producing areas: 70% in India and 15% in Pakistan, growing in arid and semi-arid areas, mainly concentrated in northwest India, east and southeast Pakistan. India's main producing areas are Rajasthan (70% output) and Gujarat, while the factory of Shree Ram Gum Chemicals Pvt. Ltd. is located in Rajasthan, the main producing area of Indian guar beans.

Planting characteristics: Guar bean trees are monsoon plants, which need 8-15 inches of precipitation during the whole growth process, without fertilization or spraying pesticides. The planting area, yield and quality of guar bean all depend on the monsoon of that year. Guar beans are sown immediately after rain in mid-July every year. The most ideal precipitation situation is that from the end of June to the beginning of July, there will be two rains when sowing, one rain when sprouting and one rain when flowering. Harvested in October and November of that year.
Planting conditions: Guar tree is an annual hard and drought-tolerant shrub plant, which grows in arid and semi-arid soil environment areas. Guar tree is best to grow in sandy soil, which needs moderate intermittent rainfall and plenty of sunshine. Like other beans, guar is grown without nitrogen fertilizer. Root nodules can decompose nitrogen by themselves for plants to absorb, at the same time, they can improve the soil environment and make the soil fertile.

Ripening period: October-November

Harvest time: Guar bean is panicum miliaceum, and its growth cycle is 20-25 weeks. Harvested in October and November of that year. The listing period is from October to January. When harvesting, the small plants are directly pulled out, the big plants are harvested and exposed to the sun. And then threshing by machine or hand. Guar bean can be used as a vegetable for human consumption. 35% protein can be used as feed; Raw materials for producing guar gum.

Influencing conditions: rain caused by monsoon, or drought caused by El Nino phenomenon.
Prosperous season: October-December is the peak season of guar gum in a year
Guar gum obtaining process
Guar pod → taking guar bean→ separating endosperm, germ and shell/skin of guar bean → making coarse pieces of guar gum from endosperm → grinding coarse pieces into guar gum powder → making from germ and shell/skin → guar meal (for cattle and sheep feed)
Guar plant
Guar pod
Guar gum powder
Guar meal
PRODUCT CHARACTERISTICS
1. Type:F-21 with CPS 5000-5500
2. CAS:9000-30-0
3. Guar gum is a kind of nonionic galactomannan extracted from endosperm of Leguminosae plant Guar bean. Its main component is galactomannan combined with sugar chain, that is high molecular weight hydrocolloid polysaccharide composed of galactose and mannose (1:2).
4. Shreeram guar gum using 100% pure food grade organic guar production, no artificial additives, no chemical residues, pesticides, non-toxic. Each bag of guar gum are detected by metal detectors, ensure no metal residue;
5. Shreeram guar gum has good solution and fast dissolving speed, it fully dissolved in 5 minutes, and does not appear phenomenon of agglomeration to avoid production waste;
6. Low impurities, less sediment, high transparency, no peculiar smell. This is unmatched by other guar gum.
7. Each Shreeram guargum batch product quality is almost the same, small fluctuation, stabel quality.
8. Shelf life:24 months;
9. Specification:25kg/ bag
10. Molecular formula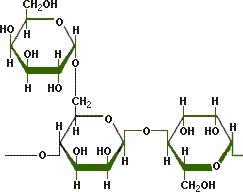 11. Product composition table of Shree Ram F-21 guar gum
| | |
| --- | --- |
| Item | Index |
| Sensory requirements | White to light yellow flowing powder, almost tasteless or with faint beany smell |
| Viscosity/(mPa·s) (24 hours,1% water solution,25 degree centigrade,viscosimeter DVII+/RVT # 4, 20RPM) | Over 5000CPS |
| Loss on drying,w/% ≤ | 12.0 |
| Ash,w/% ≤ | 0.8 |
| Acid insoluble substance,w/% ≤ | 7.0 |
| Protein,w/% ≤ | 5.0 |
| Lead (Pb)/(mg/kg) ≤ | 1.0 |
| Total arsenic calculated base on As /(mg/kg) ≤ | 3.0 |
| Borate test | Passed |
| Starch test | Passed |
| Total plate count/(CFU/g) ≤ | 5000 |
| Coliform group/(MPN/g) < | 30 |
| PH | 5.5 – 7.0 |
| Particle size through 200 mesh(75μ) | At least 95% |
| Yeast & molds/Gm | Below 500 |
| Bacillus coli/Gm | Negative |
| Coliform/10Gm | Negative |
| Salmonelia/25Gm | Negative |
(In line with the national standard of People's Republic of China GB28403-2012)
Comparison of main colloids
Commodity Name

Classify

Heat-resisting

Acid-resisting

Salt tolerance

Jelling

Emulsion stability

Film formation

1%溶液动力粘度Pa.s

增稠

Sodium alginate

Natural vegetable gum

Good

Good

Low

Bad

0.2-0.4

Middle

Carrageenan

Good

Middle

Good

Good

Middle

Good

0.1-1.5

Middle

Arabic gum

Middle

Bad

Middle

Middle

Good

Good

0.002-0.1

Low

Guar gum

Good

Middle

Middle

Bad

Bad

Bad

3-5

Strong

Xanthan gun

Microbial glue

Good

Good

Good

Bad

Good

Middle

1-2.5

Strong

CMC

Composite

Good

Good

Bad

Low

Good

0.4-2

Middle
Should be placed in dry, ventilated, cool place, and pay attention to moisture. It shall not be mixed with toxic substances. In the process of transportation, no mixed with toxic substances, avoid pollution.
Cold Drinks, Ice Cream
It can adjust the viscosity properly, prevent the formation of ice crystals, promote emulsification and increase the expansion rate. It is an excellent stabilizer and can give the finished product a smooth and chewy texture. The recommended dosage is 0.1-0.3%.
Pasta Industry
Improve the composition and connectivity of noodles, increase the smoothness and elasticity of pasta products, reduce the oil absorption of noodles and prevent tissue breakage. The recommended dosage is 0.2-0.3%.
Bread, Cookies, & Other Baked Foods
Adding guar gum to dough can increase elasticity and make dough look drier and less slack. The baked product has softer texture and longer preservation time. Its effect can improve the viscosity of dough, prevent it from breaking, increase its luster, and make it easy to demould. The recommended dosage is 0.1-0.2%.
Sausage, Ham, Meat Products Processing
It is recommended to use 0.1-0.2% to increase the connectivity and lubricity of meat products, improve meat quality and prevent dehydration and aging.
Fruit Juice, Milk, Lactic & Drinks
Excellent homogenizing agent, suspending agent, stabilizer and tackifier, the recommended dosage is 0.1-0.6%.
Sauce, Salad Dressing
It helps to keep the taste consistency and fluidity of the product while keeping moisture, and it also helps to reduce the solid components in the sauce.
Textile Printing & Dyeing Industry
Reduce the adsorption force between textile fibers, and prevent the printing image from penetrating and affecting the printing quality. Because of the increased solubility, it helps to reduce deposits on the printing screen and helps to clean after printing.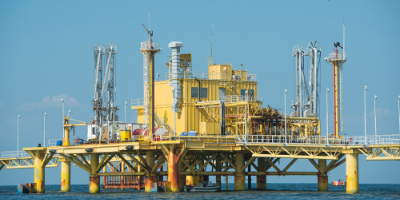 Petroleum & Natural Gas
Used for hydraulic fracturing to open hydrocarbon-bearing areas to improve the productivity of oil and gas wells. Guar gum can be quickly dissolved in water at low cost and has high viscosity. It is also suitable for controlling fluid viscosity. It also helps to control the fluid loss in pore formation during fracturing and reduce the friction pressure when pumping fluid.
Other Applications
Widely used in pharmaceutical industry (dietary fiber and slimming products), paper industry (making paper more compact and tough, easy to cut and fold), cosmetic application (for hair and skin care, lotion and shampoo). Make toothpaste paste easy to squeeze out), pet food (adhesive, improve agglomeration and adsorption of finished products), explosives (plastic explosives with higher safety), etc.
RESEARCH AND DEVELOPMENT SERVICES
---